Our 100+ Year History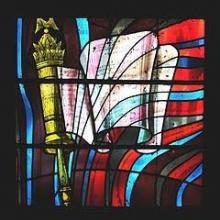 Congregation Tifereth Israel is the oldest continuously operating Jewish congregation on Long Island, with roots traced back to the Civil War era. In 1868, the first Jewish family settled in Glen Cove and was soon followed by others. They were realtors, operated a dry goods store, and ran a feed and grain store that also sold horses. Their homes often served as stopping places for Jewish travelers unable to reach their own homes in time for Shabbat.
In the 1880s and early 1890s Glen Cove's Jewish population began increasing, welcoming Jews who were escaping persecution in Europe. By 1897, there were enough Jewish families to create a synagogue, with Benjamin Cohen as founding president.
"They had their first service in my great grandfather's house. He owned the Torah. This Torah is still used on the Sabbath." - Bob Canarick, great grandson of Isaac Bessel, who, with his wife, Esther, owned the feed and grain store.
In 1906, Isaac Bessel became the first elected president, and plans were made to construct a building for praying and learning, as well as a religious school. The congregation purchased the Opera House in Glen Cove, renovated it and built a small adjoining facility for a religious school. The upper floor of the Opera House became the sanctuary. A Jewish basketball team played on the first floor, and the Opera House was often rented out for beauty pageants and other events in order to help pay the bills. On the High Holidays, the Opera House hosted large crowds.
By the 1920s, the once-fledgling Jewish community outgrew its home, which was razed in 1926 to make room for a new building that was completed two years later. After a series of temporary and student rabbis, the congregation hired its first full-time spiritual leader- Rabbi Emmanuel Rackman.
Membership increased and CTI became a leader in the Long Island community. In the 1930s and 40s, the Depression and the horrors of World War II took their toll on CTI and Jews worldwide. But, in the early 1950s, the synagogue once again blossomed enough to outgrow its surroundings. At that point, members Louis Goldberg and Nathan Zausmer were instrumental in purchasing the 14-acre property on Landing Road, which has been home to CTI ever since. In 1961, a new religious school was built, but was destroyed in 1970 in a fire of unknown origin. Although it was rebuilt, some archives and records were lost.
Undaunted, the steadfast CTI members continued to face many challenges as the 20th Century drew to a close, but they never abandoned their faith, love of learning and participation in many community programs aimed at improving everyone's lives.
Today, led by Rabbi Irwin Huberman and Cantor Gustavo Gitlin, CTI is an amazing place, enjoying a revitalized spiritual and communal life. Membership is growing rapidly; one of every two CTI families was not here seven years ago. To meet the increasing and diverse needs of this burgeoning community, programs are expanding and the synagogue has just undergone a major renovation. One need only to walk through the building - any day of the week - to feel the excitement.
Fri, September 29 2023
14 Tishrei 5784
Fri, September 29 2023 14 Tishrei 5784