High Holidays
High Holidays
Rosh Hashanah and Yom Kippur services at CTI are unique. Rabbi Irwin and Cantor Gustavo spend much time involving congregants in the rituals and prayers, explaining their spirit and meaning. Knowledge of Hebrew is not required, and no one is left to feel adrift. Our ancient and newer melodies and traditions - always illuminated with passion by Rabbi Irwin and sung with ruach (spirit) by Cantor Gustavo - lift us into a celebration of our shared heritage and our hope for a future filled with love, justice and peace.
Family Services
Blessing of the Children
Torah Reiki Healing Service
12-Step Recovery Program
Blowing of the Shofar & Communal Shofar Blast
Tashlich at Morgan Park
Rosh Hashanah Seder
Yizkor Services
Ne'ilah "Closing the Gates" Services
Havdallah & Children's Procession
2019/5780 High Holidays
The High Holidays begin on September 29, 2019, and we're getting ready. We hope you will join us and extend an invitation to attend to others so they, too, may experience the joy, energy and strong spirituality that fills our sanctuary as we worship together at this special time of year.
Don't hesitate to contact our staff if you have any questions.

High Holiday Tickets- 2019/5780
With our membership blessedly growing, seating during the High Holidays will be tight, but everyone will receive enough tickets to accommodate immediate family members, and we encourage you to bring friends and extended family members to our services.
Members are entitled to one FREE ticket for a single membership and two FREE tickets for a family membership. FREE tickets are also provided for members' children under age 26, and for first-time attendees. Tickets for members' children age 26 and over, as well as for friends and extended family members, may be purchased by completing and returning the Ticket Request Form.
To obtain a form, call (516) 676-5080.
Guaranteed seat locations are provided only for members who purchase lifetime ownership of seats. Each lifetime seat currently costs $1,000. For details, call (516) 676-5080.
If you're not a member of CTI, but would like to attend our High Holiday Services, call (516) 676-5080.
kol Nidre Appeal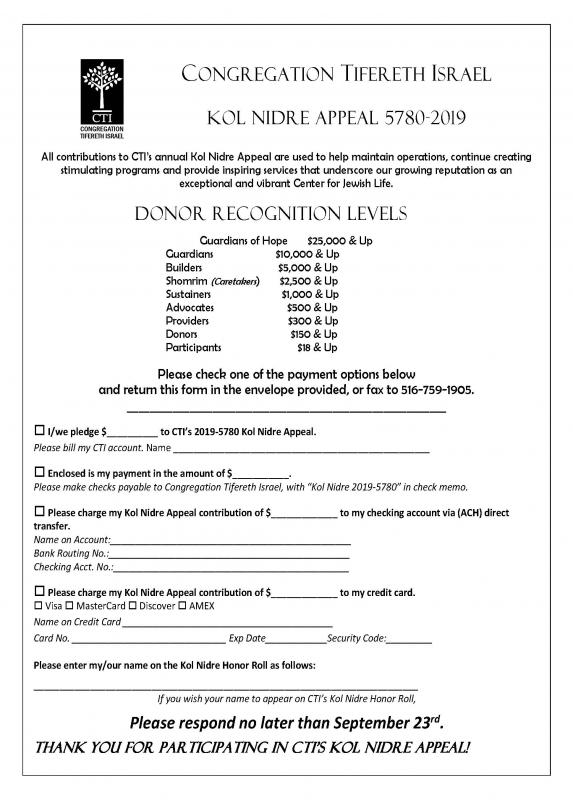 Book Of Remembrance Memorial Listing
To memorialize a loved one, have their name listed in our Book of Remembrance For details, call (516) 676-5080.
If you have any questions or concerns about the High Holidays at Congregation Tifereth Israel, please feel free to give us a call at (516) 676-5080 or email lauren@ctionline.org.
Mon, April 6 2020
12 Nisan 5780
Mon, April 6 2020 12 Nisan 5780